Conferenties
Empirical Legal Studies Conference 1 /2 september
Zie beneden een Call for Papers voor de International Empirical Legal Studies Conference op 1 en 2 september.
CALL FOR PAPERS ELSA 1-2 September 2022
Conferentie en Call for Papers Reseach group on Conflict Resolution 8 en 9 juli
Attached you may find a call for papers for the 2nd conference on the 8th and 9th of July 2022, of the Research Group on Institution for Conflict Resolution.
Call for Abstracts – Courts as arena's for social change
Invitation Inaugural Lecture
On Friday, the 24th of January 2020, at 4.00 p.m., Professor dr. Benjamin Van Rooij, appointed as Professor of Law and Society, will deliver his Inaugural Lecture, with the title:
Homo Juridicus
Questioning Legal Assumptions about Behavior
Prof. dr. ir. K.I.J. Maex, Rector Magnificus of the University of Amsterdam, requests the pleasure of your company in the Auditorium of the University (entrance Singel 411, corner Spui).
In de onmiddellijke omgeving van het Spui is nauwelijks parkeerruimte;
de Aula is bereikbaar met de trams 4, 14, 24 en metro 52, halte Rokin
It is extremely difficult to find a parking space near the Auditorium. It is easy to get to the Auditorium by tram, using lines 4, 14, 24 and metro 52, stop Rokin
afscheidssymposium
Dr. Roel Pieterman
Vrijdag 29 november 2019
Locatie: Mandeville Building, T3-21 (EUR Campus Woudestein)
Tijd: Aanvang 13.30 uur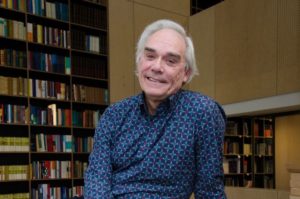 Recht, realiteit, risico en rationaliteit
Vier decennia was socioloog Roel Pieterman verbonden aan de rechtenfaculteit van de Erasmus Universiteit Rotterdam. Hij begon in 1978 als student-assistent en hij neemt in 2019 afscheid als universitair hoofddocent rechtssociologie. Zijn wetenschappelijke werk bestrijkt drie eeuwen verwevenheid van recht en maatschappelijke realiteit en bevat opmerkelijk veel strijd: 19de-eeuwse ideeënstrijd over de inrichting van de rechterlijke organisatie, 20ste-eeuwse theorievorming over strijdige aanspraken, en 21ste-eeuwse strijd voor rationeler overgewichtbeleid. Zijn boek De voorzorgcultuur tikt al die eeuwen aan. Generaties studenten werden door hem met het conflictperspectief geconfronteerd. Bestuurders hadden te maken met Pieterman de vakbondsman. Kleinzoon van twee sleepbootkapiteins: niet bang om tegen de stroom in te gaan. Maar ook beminnelijk, redelijk en constructief.
Ter gelegenheid van het afscheid van Roel Pieterman vindt op 29 november 2019 het symposium 'Recht, realiteit, risico en rationaliteit' plaats. U bent van harte uitgenodigd om dit symposium bij te wonen.
Aanmelden is noodzakelijk en kan tot uiterlijk 22 november 2019 via onderstaande aanmeldknop.
Programma
• 13.30 uur Ontvangst met koffie en thee in Mandeville Building, zaal T3-21
• 14.00 uur Opening symposium door dagvoorzitter prof.mr.dr. Sanne Taekema
dr. Rob Schwitters
'Een socioloog met een missie'
dr. Jaap Hanekamp
'Is de 'Pieterman-kritiek' op het voorzorgbeginsel toe aan pensioen?'
Intermezzo
Korte reacties uit de zaal en eerste reactie dr. Roel Pieterman
dr.mr. Tobias Arnoldussen
'De sociale constructie van een proefschrift: promoveren bij
Roel Pieterman'
dr. Bram Peper
'And don't you eat that yellow snow'
prof.dr. René van Swaaningen
'Het risico van Pieterman'
Afsluiting
Reacties uit de zaal en reactie dr. Roel Pieterman
• 16.30 uur Receptie in Lounge Faculty Club, Tinbergen Building,
17de verdieping (EUR Campus Woudestein)
• 18.30 uur Einde receptie
Erasmus School of Law
Erasmus University Rotterdam
Burgemeester Oudlaan 50
3062 PA Rotterdam
Postbus 1738
3000 DR Rotterdam
Studiemiddag/Seminar with Linda Mulcahy
Date and time: Friday 27 September 2019, 12.00h
Location: Rotterdam, Erasmus University, Burgemeester Oudlaan 50, Room: to be announced
Entrance is free of change, but please confirm your attendance by filling in the registration form via the following link:
https://www.eur.nl/esl/evenementen/democratic-courthouse-unravelling-complex-relationship-between-design-due-process-and
On 27 September the VSR and the ESL-research programme 'Rethinking the Rule of Law' are organising a socio-legal seminar at the Erasmus University Rotterdam. During this meeting Linda Mulcahy (Professor of Socio-Legal Studies and the Director of the Centre for Socio-Legal Studies at the University of Oxford) will present her research titled 'The Democratic Courthouse? Unravelling the complex relationship between design, due process and dignity in English courts'. Xandra Kramer (Professor of Private Law at the Erasmus School of Law and Professor of Private International Law at Utrecht University) will discuss Professor Mulcahy's work.
Additionally, Jos Hoevenaars (Postdoctoral Researcher at the Erasmus School of Law) will present results of his doctoral research titled 'A people's court? A bottom-up approach to litigation before the European Court of Justice'. This presentation will be discussed by Jasper Krommendijk (Associate Professor of International and European Law at the Radboud University Nijmegen). Subsequently, Paulien de Winter (Lecturer and Researcher at the University of Groningen) will present her recently defended doctoral research 'Between the rules', a social-legal study of the enforcement of social security law in the Netherlands. Nadine Raaphorst (Assistant Professor at the Institute of Public Administration at Leiden University) will be discussant of her presentation.
Programme
12.00-13.00 Lunch
13.00-13.10 Opening
13.10-14.00 Keynote by Linda Mulcahy
14.00-14.20 Discussant Xandra Kramer
14.30-15.00 Coffee and Tea break
15.00-15.30 Presentation by Jos Hoevenaars
15.30-15.15 Discussant Jasper Krommendijk
16.00-16.30 Presentation by Paulien de Winter
16.30-16.45 Discussant Nadine Raaphorst
17.00 Drinks